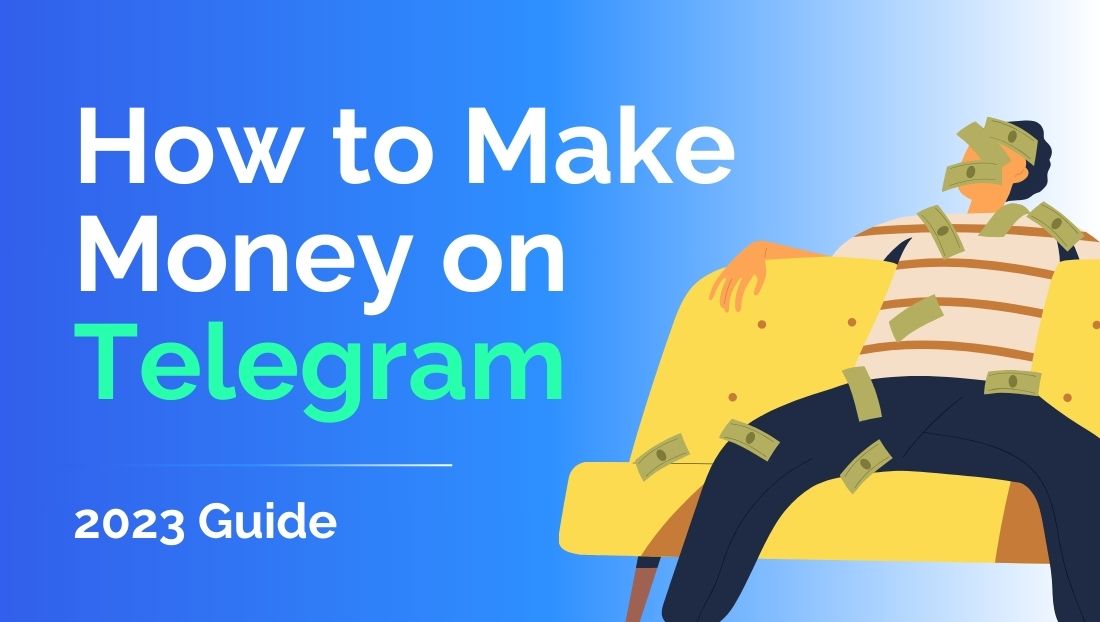 Profitable Monetization Strategies on Telegram: 2023 Guide
Telegram's evolution has paved the way for a fusion of communication and monetization, opening up myriad opportunities to make money on Telegram for businesses, entrepreneurs, and content creators alike. Let's delve deeper into how Telegram has emerged as a powerhouse for both communication and various Telegram revenue streams.
Why Telegram Is Your Best Choice
Unrivaled Popularity in Messaging Apps
In 2023, Telegram has soared in popularity, attaining roughly 1.068 billion total ❗️ and 700 million monthly active users, securing its spot as the fourth most-used messaging app globally.
Predominantly, more than 80% of Telegram's users are between the ages of 20 and 45, known for their stable income.
Prioritizing User Security
Telegram securely stores chat histories and allows anonymous chats and channels while providing robust MTProto encryption for unhackable conversations.
Informative Channels and Resourceful Bots
The app offers a wealth of information across diverse topics through various channels and provides utility via bots, which act like in-app applications, without compromising the user experience.
Seamless Cross-Platform Use
With instant synchronization across all available platforms, Telegram allows users to switch between devices effortlessly, maintaining usability and consistent functionality.
The inclusion of voice calls & voice chats has bolstered Telegram's reputation as a fast, convenient, and feature-rich messenger, weakening the competitive edge of its rivals.
💸 Direct Monetization Techniques
1. Placing Ads in Your Telegram Channel
Engage in a profitable venture by selling advertisement spots within your Telegram channel, opening up a revenue stream that capitalizes on your established audience.
By offering paid posts, you invite businesses or individuals to promote their products or services directly to your followers. Simply put, you charge advertisers a fee for sharing their promotional content (like text messages, images, or linked content) with your audience. Ensure that chosen Telegram ads are relevant and align with your audience's interests to maintain the credibility and user-friendliness of your channel, thereby achieving a balance between monetization and maintaining subscriber satisfaction.
💡Did you know that Native ads in Telegram channels seamlessly promote products by blending into regular content, often crafted by channel owners for unobtrusive, effective Telegram advertising?
🤝Add your channel to the Telega.io catalog to start receiving ad orders
2. Telegram Affiliate Marketing
Affiliate marketing is a revenue-sharing venture where a business rewards an external party (an affiliate) for generating traffic or sales to its products or services through the affiliate's marketing efforts. Essentially, the affiliate promotes a product and earns a percentage of the profit from any sales made through their referral.
In the context of Telegram, the procedure can be quite straightforward yet effective. By incorporating an affiliate link into the description or content of your Telegram channel, you can earn passive income. When individuals click through your link, sign up, and complete a purchase, you receive an affiliate commission. This method enables channel owners to monetize their follower base by promoting relevant products or services while earning a reward for every concluded sale facilitated by their referral.
💡Did you know that Telega.io also has an Affiliate Program? Sign up here >>
3. Sell Products or Services on Telegram
Building a robust personal brand and garnering a dedicated following on Telegram pave the way toward a fruitful venture into direct selling. Establishing a recognizable and trusted brand amongst your audience not only solidifies your credibility but also acts as a catalyst to promote various products and services with increased efficacy.
Your offerings, which might span across digital products, tangible merchandise, or niche-specific services, when in sync with your brand ethos, can facilitate rapid and prosperous sales. This strategic alignment ensures that your sales efforts are not merely transactions but are also enhancing your brand value, allowing you to engage and monetize your existing audience effectively. The direct selling model on Telegram, therefore, not only provides a streamlined platform to showcase your offerings and make money on Telegram but also helps in fortifying the rapport with your audience by providing them with products and services that are cohesively aligned with their expectations and your brand narrative.
4. Consider Consulting People on Telegram Promotion
Having successfully navigated the realm of Telegram promotion and channel growth, you possess a wealth of knowledge that others might seek. Consider utilizing this expertise to generate income by providing consultations on Telegram promotions. You might guide individuals on aspects like bot creation and utilization, selecting an appropriate niche, or discerning which content resonates best across various niches. Your insights not only facilitate others in their Telegram journey but also serve as a viable revenue stream for you.
🤖 Telegram Bots for Profit
Leveraging Telegram's bot API, you're presented with the ability to develop and automate bots of varied complexity, offering a bridge between you and your clientele. Whether crafted independently or developed by a programmer, bots cater to multifaceted needs, enhancing user interaction and operational efficiency.
Crafting and Deploying Business Bots
Telegram bots, capable of executing various roles like booking services and offering real-time support, bridge the gap between your services and the clientele. They can be independently developed or programmed professionally, becoming indispensable conduits for offering a range of services.
Driving Revenue through Bots
Bots transcend their operational roles to become reliable revenue generators, driving affiliate link sharing and ensuring seamless transactions. By strategically incorporating ads, your bot can also usher in additional income, substantiating itself as a multi-dimensional income tool.
💡 You can also add mass advertising among users of your bot and make additional money.
Developing Bots for Diverse Businesses
If bot creation is within your skill set, developing Telegram business bots for businesses opens up a lucrative avenue. Your technical and creative prowess in bot development becomes a valuable asset, offering you a unique and direct pathway to income by tapping into the vast potential of bot utility and engagement.
🤝 Profitable Collaborative Ventures
Telegram Channel Collaborations for Wider Impact
Engaging in mutually beneficial collaborations by pooling audiences and interchanging content with congruent channels enables both entities to enjoy amplified reach and varied content.
Formulating Strategic Brand Alliances
Forge alliances with brands that resonate with your channel's theme, providing a platform for exclusive promotions and product debuts, thereby amplifying your monetization avenues. Through paid Telegram partnerships, brands might exploit your audience for product unveilings or special promotions, while collaborations with analogous channels can substantially broaden your reach and potentially elevate your income.
Other Ways to Make Money on Telegram
🧑‍💻 Conducting Webinars: Host paid Telegram webinars or workshops, delivering premium content or expertise to attendees.
💰 Embracing Donations: By delivering valuable content through your channels, you may find that a supportive community is willing to contribute through donations to sustain and elevate your initiatives.
Wrapping up
Telegram, with its amalgamation of secure communication and diversified monetization strategies, has fortified its position as a versatile platform for businesses and bloggers in 2023. Implementing a strategic blend of direct and indirect monetization strategies, coupled with the effective use of bots and collaborations, can pave the way for sustainable revenue streams while maintaining robust communication with your audience. Good luck with your endeavors!
If you have a Telegram channel or Telegram bot, sign up to Telegram Ad Exchange to get advertising orders and earn money!
Do you have any questions?
Stay up to date with the latest news
📱 Read our Telegram channel to stay up to date with the latest Telegram marketing news and updates to our service.