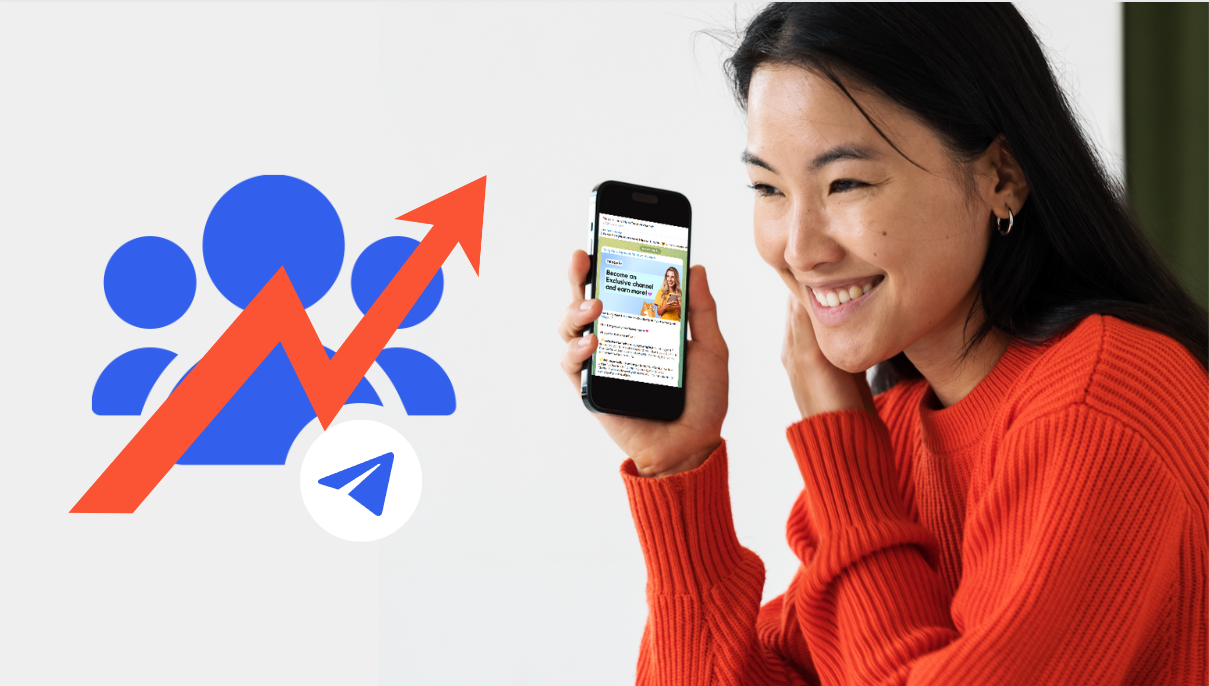 From Zero to Hero: How to Promote Your Telegram Channel in 2023
Looking to make waves with your Telegram channel in 2023? You're in the right spot! Navigating through the vast world of Telegram channels can be daunting, but with the right strategies, your channel can shine brightly. Promoting effectively is key and it's not as tricky as it might seem.
This guide is your ticket to understanding both free and paid ways to get your Telegram channel into the spotlight. We'll explore smart, cost-effective strategies and delve into options where a little investment can go a long way. Let's dive in!
Free Promotion Strategies
1. Leverage Personal Connections
Before expanding to a wider audience, begin with those already in your circle.
Message friends, family, and acquaintances with a personalized invitation to your Telegram channel. This builds an initial base and generates organic conversations around your content.
2. Maximize Your Existing Digital Presence
Place the link to your Telegram channel on your website, partner websites, and across your social media profiles. This ensures visibility among your existing followers or visitors.
Content Repurposing: Maximize your Telegram content by reshaping it for other platforms like YouTube, Instagram, and LinkedIn. A vibrant Telegram post can spark a video idea, inspire an Instagram image, or fuel a LinkedIn discussion. Don't just reuse — recreate, always linking and pointing your followers back to your Telegram channel. This method not only preserves your messaging across platforms but also funnels followers from all your social spaces into your Telegram community, enhancing interaction and engagement.
3. Leverage Online Catalogs
There are many platforms that serve as repositories for Telegram channels. By listing here, you can tap into an audience actively seeking out new content.
Don't forget that you can enlist in the Telega.io catalog as well. Not only does it offer a spot for your channel amidst a plethora of others, enhancing visibility, but it also provides even smaller channels with the opportunity to monetize through placing native ads. Hence, with Telega.io, you're not merely expanding visibility but also paving a way to generate income while progressively growing your channel's follower count.
4. Engage in Niche Communities
If your channel covers specific topics like fashion, dive into related forums, groups, or communities. Engage in discussions and subtly promote your channel.
5. Benefit from Opinion Leaders
Engage in meaningful conversations in the comment sections of opinion leaders' posts on Telegram. When relevant, share your channel link. Ensure it's contextual to avoid seeming spammy.
6. Explore Opportunities with Cross-Promotion
Navigating through the abundant universe of cross-promotion can exponentially increase your Telegram channel's visibility and subscriber count. Collaborate intentionally with channels that share a similar audience demographic, ensuring that both parties benefit from mutual exposure. It's crucial to tread mindfully, maintaining a fine balance to prevent over-promotion that could potentially disengage your current subscribers. Engage with fellow Telegram channel owners, initiating a promotion exchange wherein your channel is introduced to their audience and vice versa.
💡 Tip: don't limit cross-promotion to Telegram alone—utilize your platforms on YouTube, TikTok, and Instagram to mention and share about your Telegram channel, converting your existing followers on these platforms into your Telegram subscribers. Maintain a focus on quality and strategically use cross-promotion to navigate toward a growing and engaged audience.
Paid Promotion Techniques
Navigating the realm of paid promotions can often seem intricate, but with a strategic approach, it's a straightforward path to escalating your Telegram channel's growth.
Navigate Expert Advertising Platforms with Ease
Utilize platforms like Telega.io, which offer a seamless experience in purchasing ads on Telegram, enabling you to sift through, select, and promote across relevant channels with minimal effort.
Forge Partnerships with Larger Channels
Pinpoint channels that mirror your content ethos. Engage with their administrators for potential promotional partnerships. Don't be shy to reach out—some noteworthy bloggers might even spotlight young, quality-driven channels for free.
Amplify Your Reach Through Diversified Ad Placements
While leveraging advertising spots on platforms like Facebook or Instagram can cast a wide net of visibility, the quintessential aspect is to shape your ads to be not just visible, but irresistibly clickable, ensuring the conversion from viewer to Telegram subscriber.
Wrapping up
Implementing both free and paid promotional strategies effectively propels your Telegram channel into a space of exponential growth and heightened visibility. Leverage personal connections, explore cross-promotion, engage with online catalogs, and optimize paid advertising opportunities to not only increase your subscriber count but also to cultivate a dedicated and engaged community.
Do you have any questions?
Stay up to date with the latest news
📱 Read our Telegram channel to stay up to date with the latest Telegram marketing news and updates to our service.