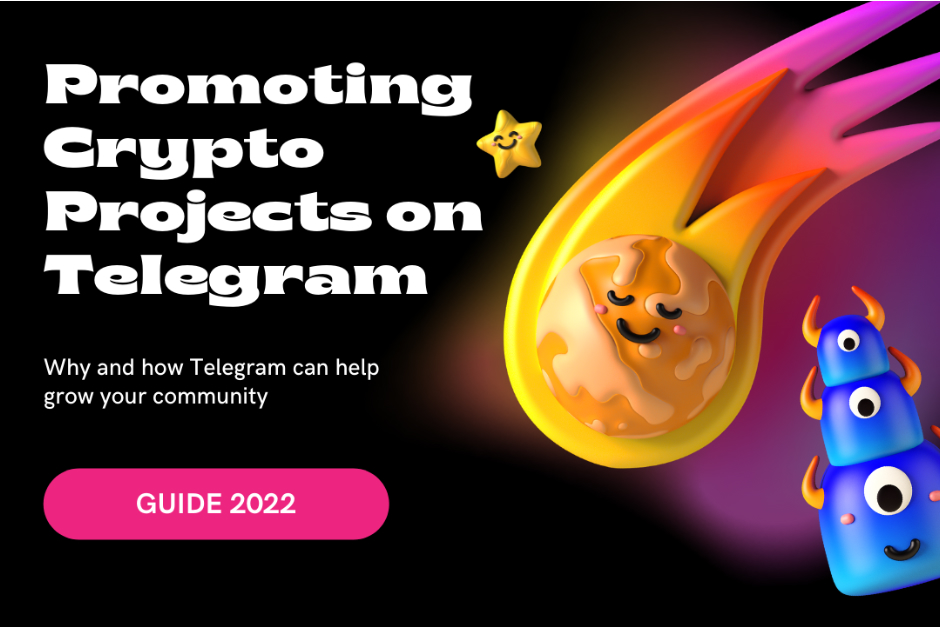 How to promote Crypto Projects on Telegram
Cryptocurrency is a burgeoning sector of the economy, necessitating advertising crypto projects. The total value of the most widespread cryptocurrency, Bitcoin, is over $500 billion. The entire crypto market, including NFTs, DeFi, and other blockchain projects, is estimated to be worth $2 trillion.
The sheer number of new NFTs and other blockchain projects entering the market daily necessitates the existence of robust crypto ad platforms. These platforms can help showcase items, find investors, and connect with new audiences and users.
Discord, Telegram, and Twitter are the most popular platforms for advertising crypto projects. While Elon Musk still needs some time to transform Twitter into a convenient business tool, Discord and Telegram have their doors open and offer the necessary toolset for advertising and community building.
This article elucidates why Telegram is worth your attention and how to use Telegram advertising for your crypto projects. Here, you will discover how to buy Telegram ads, advertise on Telegram, promote your crypto Telegram channel, find suitable channels, and understand the Telegram advertising cost.
Why Telegram?
Telegram is a cross-platform messenger where users can exchange text, voice, and video messages. Today it ranks second in the App Store social media rankings, and it is gaining more and more popularity among users across the world.
Here are some of its key features:
550+ million users. Nowadays, 8.7% of people around the globe are active Telegram users. The Bell reports the approximate statistics by country: 70 million users in India, 40 million users in Indonesia, 11 million users in Brazil and 10 million users in the United States. Telegram statistics says that the majority of Telegram users are located in Asia - 38%, while 27% are located in Europe, and 21% in Latin America. Analysts believe that by the end of 2022, the number of app downloads will exceed 1 billion.
Adult audience. The average age of users is 20-40 years old. The audience is divided by gender: 61% male and 39% female.
High solvency. Most users (worldwide) earn about 700 dollars a month. According to statistics, 8.7% of users receive more than 3000$ a month.
Loyal moderation. There are no expected problems with moderation on Telegram, which is so familiar to Facebook, Google, and Twitter users. You won't have to wait for a standard response from the support team that your card has been blocked for some unknown reason.
Great options to grow your community You can create a community long before the initial token sale and reach your audience of the project in advance. How? For example, you can buy ads on Telegram in niche crypto channels and invite people to join the official channel of the project so that they can keep track of news on an upcoming airdrop, token sale, and other promo activities.
Convenient tools for contests. You can run contests / challenges among channel subscribers or give out rewards for activities: creating stickers, inviting friends, creating memes, active communication and writing posts about the project, etc.
Advantages of Telegram groups
If you've ever wondered how to advertise your crypto Telegram channel, you should consider promoting it through Telegram itself. Telegram has formed a strong community within the cryptocurrency niche. One of the reasons is its functionality. For example, inviting individuals to a group is free. Also, unlike Telegram channels, groups allow their participants to interact with each other (on Telegram channels, only admins can send messages and followers can chat in the comments section under posts, if admins have turned this option on).
This functionality benefits both users and projects.
Project managers/developers/promoters have a quick, easy way to connect with existing and potential investors.
Our Telegram ad platform Telega.io offers more than 200 groups with crypto topics. You can find the channels here. Also, you can search by chats using our filters.
Advertising strategy for Crypto Projects
A sure way for crypto telegram advertising is to create a Telegram channel, where you will make announcements. And also you can create an additional chat to stay in touch with your community. If necessary, you can create several themed chats, just like it is usually done on Discord.
You can use #tags on Telegram channels to sort out posts by specific topics. For example, if you often hold giveaways, enter the #giveaway tag.
You can pin important messages from the live stream of your project on your channel or group. For example, pin the information about your referral program, a new contest, or the start of token sales. You can pin any number of messages!
How to advertise Crypto Projects on Telegram
One notable aspect of crypto Telegram promoting is the lack of organic traffic on Telegram channels.
Because there is no "smart feed" built in the messenger, the posts cannot just pop up as recommendations and be noticed by users. So, promoting your channel with only high-quality content is impossible. Some cryptocurrency startups do not have the time to write tons of articles. They need to drive new people to their projects here and now.
The most effective ways to gain an audience on Telegram channels:
[free] invite your followers from other social networks. If you have an account on Twitter or a website, tell your audience about your Telegram chat or group and give them a link to join you there.
[free] cross PR actions with related channels. You can search manually within Telegram or check the specialized catalogs with themed channels, find the channels and chats within your niche, and arrange free mutual advertising.
[paidl] сrypto telegram ads on channels and bots. Buying ads on Telegram is no different from buying ads on external resources (on your website or application). We will dive into details below.
How to choose the topic of Telegram channels for advertising
The Telega.io,Telegram channel advertising platform, has a filter by topic. We have collected over 50 different topics, and they are as close as possible to the topics indicated on the official Telegram advertising platform.
We want to remind you that advertising through the official platform is available from a budget of 2 million euros.
For an effective ad campaign, we recommend choosing several types of topics: target, related (near the target), and general.